Google Doc | Author: Mati Roy | Created: 2017-04-04 | Updated: 2019-03-08 | Published: 2019-03-08 | Acknowledgement: David Krueger for ideas and feedback | Feedback: please send me other poster suggestions
Posters
Ideas for posters. I initially created this list for a rationalist sharehouse, but it could be useful to various other groups. The ones in bold we have at the Macroscope.
Places to print posters
Signs
WI-FI password
Rules:
No shoes
No smoking
Vegan sign for fridge
Norms:
Clothing optional
Sober space
About your collective
Manifesto
Handbook
Website
Useful
Socratic Duck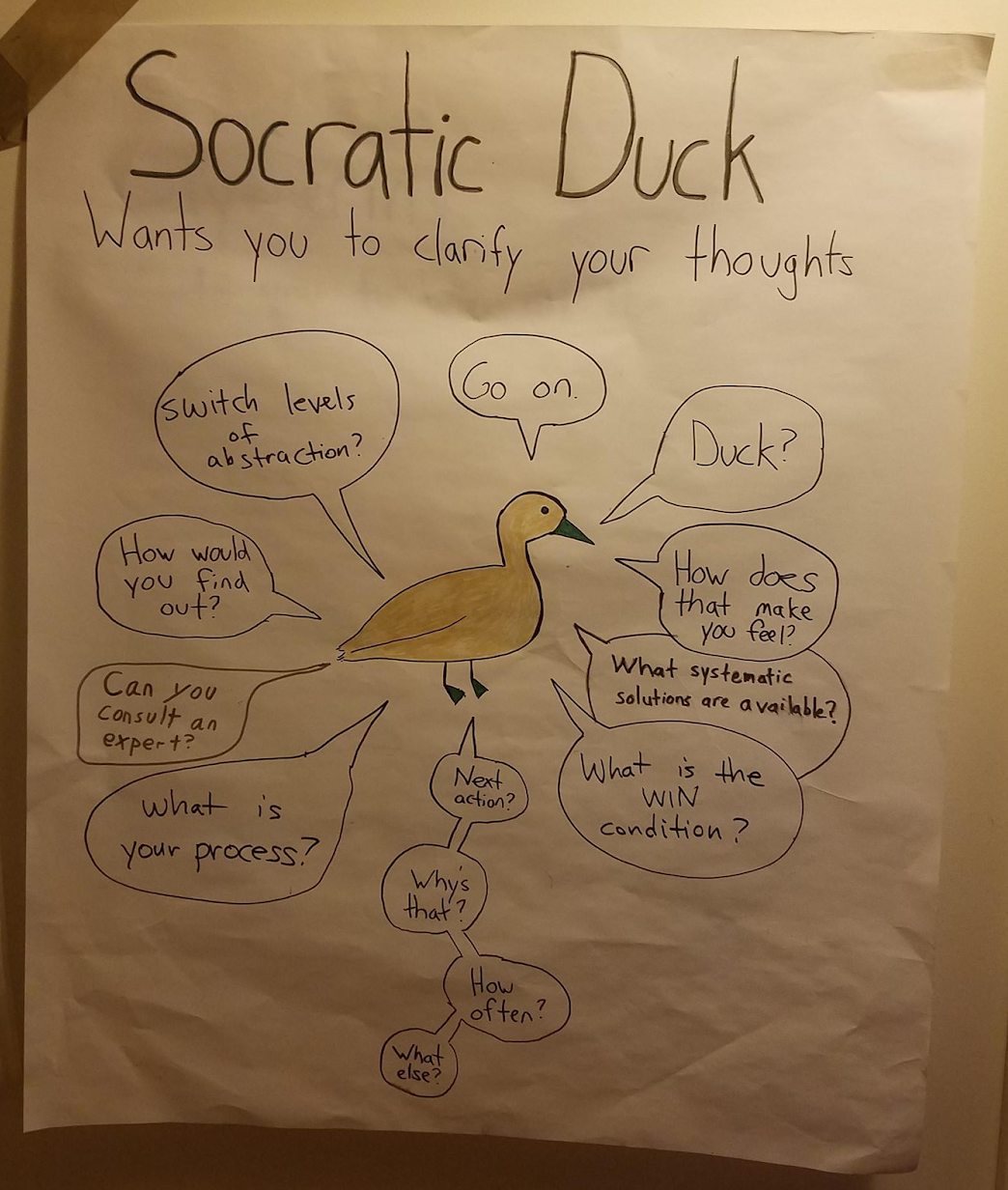 Programmers sometimes use a technique called rubber duck debugging where a programmer explains their codes to an inanimate object (ex.: a rubber duck) (more info: https://en.wikipedia.org/wiki/Rubber_duck_debugging).
You can do something similar to debug your life in general. To help remind you some questions you would like to think about more often, you can create a poster with a Socratic Duck asking you those questions (see image — poster seen at another collective).
Themes
Effective Altruism
Rationality
Transhumanism
Steps to certain tech
Other
Perspective
Academic Stuff
Physics
Chemistry
Other
Historical Events
Alternative Lifestyle
Other
Ideas
Useful
Coding cheat-sheets: Vim / Emacs, git, tmux / screen,
Useful Mathematical identities (e.g. matrix identities)
Exercises / Yoga poses
Perspective
Effective Altruism
Alternative lifestyle
Diets
Intentional communities
Other
Life hacks / algorithms to live by (ex.: on learning)
How stuff works diagrams
Common phrases in different languages